Talcum Powder
For generations, talcum powder products like Johnson & Johnson's Baby Powder and Shower-to-Shower body powder have been regularly used among women for feminine hygiene, and to prevent diaper rash in babies. However, research has shown that women who use talcum powder on their groin area for feminine hygiene purposes may actually have a greater risk of developing ovarian cancer and other potentially life-threatening cancers. If you believe you have been adversely affected by side effects of talcum powder, consult an experienced talcum powder attorney today to explore your possible compensation options. You may have grounds to file a talc powder cancer suit against Johnson & Johnson, in order to seek fair and timely reimbursement for your losses.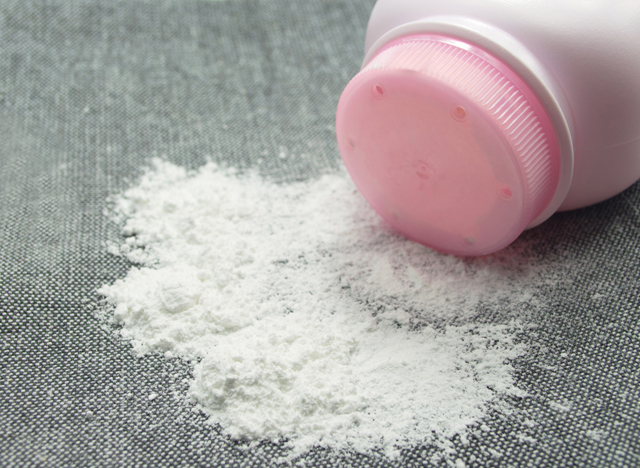 What is Talcum Powder?
Talcum powder is made from talc, a mineral composed mainly of the elements magnesium, oxygen and silicon. As a powder, talc helps cut down on friction and absorbs moisture, which makes it a useful product for preventing rashes and keeping skin fresh and dry. Talc is widely used in a number of cosmetic products like Johnson & Johnson's Baby Powder and Shower-to-Shower body powder, and women have for years used talcum powder for feminine hygiene purposes, which studies have shown may increase the risk of ovarian cancer and other potentially deadly cancers, including cervical and uterine cancer.
Reported Side Effects of Talcum Powder
Talcum powder has been a fixture in American bathrooms and nurseries for generations, believed to be a harmless substance that works well in treating diaper rash and preventing vaginal odor in women. However, research dating back to the 1970s suggests that talcum powder applied to the female genitalia, dusted on underwear, diaphragms or sanitary napkins, may be linked to serious health problems. According to reports, harmful talc particles may travel through the vagina, into the uterus, and long the fallopian tubes to the ovaries, possibly increasing the risk of ovarian cancer in women. While women with ovarian cancer may exhibit no symptoms in the early stages of the disease, some may experience the following:
Pain in the abdomen or pelvis
Abdominal fullness
Fluid in the abdomen
Weight loss
Loss of appetite
Unexplained fatigue
Lawsuits Over Injuries from Talc Powder
More than a dozen product liability lawsuits have already been brought against Johnson & Johnson over ovarian cancer and other injuries allegedly caused by the pharmaceutical company's talc-based baby and body powders, and as more women become aware of the potential link between talcum powder and ovarian cancer, hundreds, if not thousands, more product liability lawsuits are expected to be filed in the future. All of the talcum powder lawsuits filed against J&J involve similar allegations that the company has known for years about the risk of ovarian cancer from talcum powder, yet failed to warn consumers and the medical community about this risk. Among the growing number of claims brought against Johnson & Johnson is a class action lawsuit filed in California, and another filed in Illinois.
Pursuing Compensation for Ovarian Cancer Side Effects
The alleged risk of ovarian cancer from talcum powder is very real, and in one study published in the journal Cancer Prevention Research in June 2013, researchers reported that women who dusted their groin area with talcum powder had a 20-30% greater risk of developing ovarian cancer, compared to women who did not regularly use talc-based powders in their personal hygiene. If you have been diagnosed with ovarian cancer, cervical cancer, uterine cancer, or another serious medical condition, and you believe Johnson & Johnson's talc-based Baby Powder or Shower-to-Shower body powder to be the cause, you may be entitled to financial compensation for your injuries and medical expenses. Contact a reputable talcum powder cancer lawyer today to discuss your options for legal recourse.
Talcum Powder Lawsuit Resources
https://www.consumersafetywatch.com/compensation-talcum-powder-ovarian-cancer/
https://www.bloomberg.com/news/articles/2017-03-28/why-johnson-johnson-would-like-to-forget-2016-quicktake-q-a
http://www.latimes.com/local/lanow/la-me-ln-cancer-talc-verdict-20170821-story.html